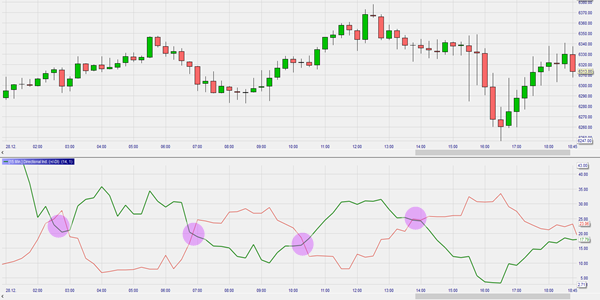 DMI stands for Directional Movement Index. It was developed by J. Wellis Wilder Jr. with a view to detecting major trends. Using this indicator, it is possible to ride a significant portion of a trend.
Click here to see the DMI inside a real time trading platform.
This system has a trend-following character, making it a lagging indicator similar to the crossovers of the Moving Averages.
The Directional Movement Index (DMI) displays positive market movements (+DIx) and negative market movements (-DIx) in two separate lines. These lines are often green (positive momentum) and red (negative momentum).
The DMI is a trend-following indicator. It is used to indicate the beginning or end of a trend. When the positive trend crosses the negative trend, and the positive line (+DIx) rises above the negative line (-DIx), then this is seen as a buy signal. If the positive line tracks below the negative line, then this is seen as a sell signal.
The DMI is a genuine trend-following indicator, and can only be used in a trend market. Many successive false moves may occur in a protracted trading market period.
The DMI lends itself to optimization in trend markets. However, systems that utilize the DMI usually lose money in long-term trading markets.
The DMI is often used in conjunction with the related ADX trend indicator.
Apply here for a free NanoTrader demo.
PARAMETERS
DMI period (14)
BUY AND SELL SIGNALS
The crossings between +DIx and -DIx provide buy (rising +DIx) or sell signals (falling +DIx).
DIVERGENCE
N/a
INDICATOR TYPE
Trend-following
This example shows a 15-minute chart with a DMI of 14 periods.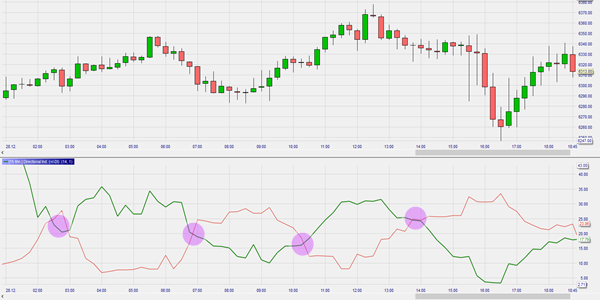 ---
Are you looking for an outstanding futures and CFD-Forex broker?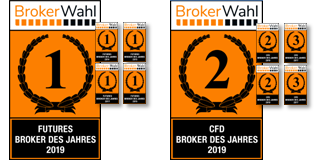 In the annual Brokerwahl traders voted WH SelfInvest as "Nr. 1 Futures Broker" and "Nr. 2 CFD Broker". For an incredible five times in six years WH SelfInvest is considered the best futures broker, beating all competitors by a wide margin. In CFDs WHSelfInvest came only 0,1 behind this year's first-placed broker. Clients are extremely satisfied with the low commissions, outstanding order execution and the legendary service.