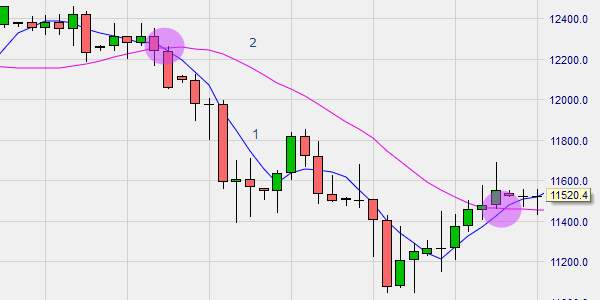 The Dual Moving Average consists of two separate Moving Averages.
Click here to see a Dual Moving Average on a real time trading platform.
This means it is possible to indicate the point at which a rising trend reverses into a falling trend and vice versa. This MA displays the price trend in a smooth line as it filters out short-lived fluctuations. The use of two MAs in a chart means that both short-term and long-term trends can be displayed. The crossing of a short and a long MA is considered a buy/sell signal.
The Dual Moving Average (DMA) produces fewer signals than the single Moving Average. The disadvantage of lagging the price applies even more to the Dual Moving Average. It is therefore also a lagging indicator.
In powerful trend markets, the Dual Moving Average usually provides excellent signals. In sideways markets, this indicator is largely useless.
The Dual Moving Average with 10-day and 26-day settings is also known as an EB indicator in some publications. In this context, a 10-day Exponential Moving Average (EMA) is sometimes taken for the short MA.
The Dual Moving Average is just as sensitive to curve fitting as the MA when it comes to optimization. Using crossing MAs, it is possible to find parameter pairs that generate a return in just about any market.
PARAMETERS
Short MA period (30).
Long MA period (90).
BUY AND SELL SIGNALS
The crossing of a short-term and a longer-term MA is considered a buy/sell signal.
DIVERGENCE
N/a
INDICATOR TYPE
Trend-following
This example shows the Dual Moving Average indicator on a day chart in the NanoTrader trading platform. The fast moving average (1) is set to 5 periods i.e. days and the slow moving average is set to 20 periods.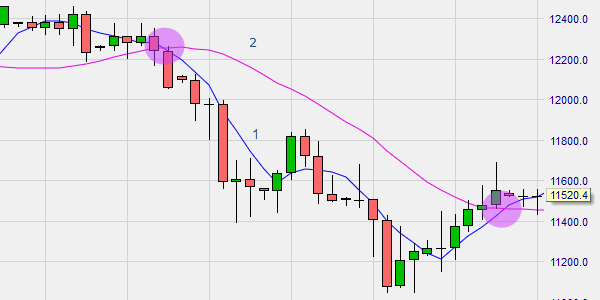 ---
Are you looking for an outstanding futures and CFD-Forex broker?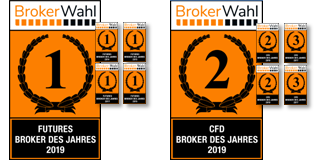 In the annual Brokerwahl traders voted WH SelfInvest as "Nr. 1 Futures Broker" and "Nr. 2 CFD Broker". For an incredible five times in six years WH SelfInvest is considered the best futures broker, beating all competitors by a wide margin. In CFDs WHSelfInvest came only 0,1 behind this year's first-placed broker. Clients are extremely satisfied with the low commissions, outstanding order execution and the legendary service.