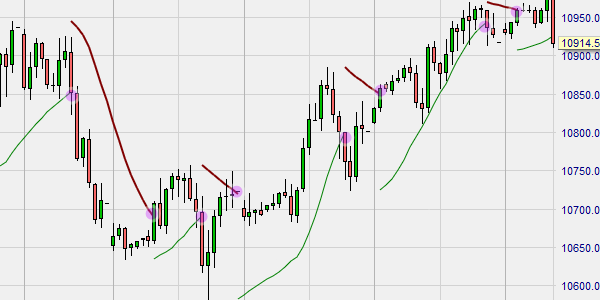 J. Welles Wilder Jr's Parabolic Stop And Reverse is a sort of moving stop loss.
Click here to see a Parabolic SAR inside a real time trading platform.
The chart is parabolic in shape, hence the name. This indicator is really a complete trading system with a built-in stop-loss process that gradually zeros in on the current price as the trend progresses. Parabolic SAR signals often herald a trend reversal. This system requires a strong trend market with clear turning points, mostly losing money in a sideways market.
Click here to get a free demo account.
PARAMETERS
Acceleration factor (0.02)
Maximum acceleration factor (0.2)
BUY AND SELLL SIGNALS
Buy/sell signals are provided at the point the SAR is broken.
DIVERGENCE
N/a
INDICATOR TYPE
Trend-following
This example shows the Parabolic SAR in an hourly chart. Whenever the stop reaches the price, the position is rotated. As long as the trend continues, the acceleration factor increases so that the stop always approaches the price.